Serving Customers Nationwide
Taste the Freshest Cold-Smoked Salmon
Traditional Cold-Smoked Salmon Beyond Compare
Taste exceptionally fresh and delicious
cold-smoked salmon
prepared the traditional way from MOVEABLE FEAST INC. We have been offering our product since 1995, and it remains a top favorite in the restaurant industry. It is made by a chef for chefs.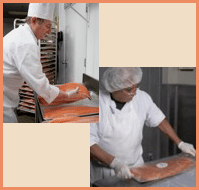 Chef Alain is truly dedicated to his craft. He began his career working for some of the most prestigious hotels in Europe and transferred to well-respected and trendsetting restaurants in New York City. Because of his tireless dedication to his trade, Chef Alain has maintained an excellent reputation in the food industry. He is the vice president of the Société Culinaire Philanthropique in New York and a member of the Académie Culinaire de France.
With over 40 years of food preparation experience, Chef Alain is now a master salmon smoker committed to producing high-quality smoked salmon that is worthy of bearing his name and appreciated by other chefs. His specialty is highly sought-after cold-smoked salmon. Word of mouth from satisfied chefs is our primary marketing vehicle.
MOVEABLE FEAST INC is a business-to-business operation managed by a husband and wife team, Alain and Denise. Together, they supervise all areas of the business. Chef Alain concentrates on the production aspect, and Denise manages all administrative duties.
In addition to Chef Alain's label, we offer custom labeling to our distributors. We offer sliced or un-sliced sides of traditional cold-smoked salmon, pastrami salmon, gravadlax salmon, and peppered salmon. Our products can be picked up directly at the smokehouse or shipped via third-party refrigerated trucking.
MOVEABLE FEAST INC is committed to protecting the well-being of the environment and species for future generations. Since sustainability is one of our major concerns, we ensure all the salmon we smoke comes from sustainably responsible sea farms.
Contact us to learn more about our cold-smoked salmon.